Let's schedule a free consultation and we can begin to plan! Each session is personalized and we want to answer all of your questions.
If history tells us anything, it's that people who have a plan are more successful than those who don't. We will walk you through our 7-step process to perfect portraits.
Adorn your walls, create an album, and send out prints to your friends and family. Display your pictures anywhere to be reminded of how beautiful your life is.
Voted Best Photographer in Durango 6 Years in a Row!
"Happily ever after" never looked so good
Congratulations! You have found your soulmate, and you two are ready to begin your life together.  The feeling of being in love is indescribable (honestly – people have been trying to do it for years and all we have is The Notebook or Romeo and Juliet), and you need photos that reveal how much the two of you love each other.  We get that it can be nerve-racking to start planning your portraits – trust us, we've been there!
Allison Ragsdale Photography is run by a husband and wife team, so between our personal experience on the lens side of the camera and the countless engagement sessions we have captured; we know how to bring out your most comfortable and loving selves. Voted Durango's Favorite Photographer and with numerous awards under our belt, we know you will have photos that you will share and cherish for a lifetime.
We use our 7-step process to perfect portraits as it guarantees successful portraits.  We promise that following this process, you will have beautiful portraits to display at your home, in your Save the Date Cards, and on your social media feeds.
The first step to getting the photos you will fall in love with is to call us and schedule a consultation! To ensure that your every minute of your consult will be beneficial, download our What to Wear guide here.  Our goal is to give you pictures that truly portray your strong and amazing relationship!  We look forward to helping you feel comfortable while you plan and capture one of the best days of your life!
Achieve perfect portraits in 7 easy steps!
Our 7-step process to perfect portraits will guarantee portraits that you'll fall in love with. Only at Allison Ragsdale Photography will you experience a unique photo shoot that has even the most "un-photogenic*" person feeling at ease in front of the camera.
*Allison Ragsdale Photography believes everyone is photogenic. You are all beautiful people.
7 step process to perfect portraits
Plan.
(n). the act of making a dream a reality. 
First things first – we'll get together to plan your session. This plan will include your session location(s), props, outfits/style and how you might want to display your portraits. The planning step is crucial and the easiest way to avoid bad portraits. You will leave our studio confident in knowing exactly where you're going, what you're wearing, and that we will be telling your story.
Portrait Session.
Since we have already planned the entire session, you won't feel awkward, unprepared, or nervous during the photo shoot. Believe it or not, you'll actually enjoy the experience; 99.999% of our clients have fun on their sessions! Our team has done this a thousand times. You won't even realize we will be guiding you to get completely natural moments and you will love the way you look.
Still a little skeptical? Don't be. (Because Photoshop)
All portraits are professionally edited so they look perfect before you view them.  This is an important step along the way. Don't be tricked by studios that don't edit their photos before they are presented to you.  Seeing your edited photos shows you a more accurate depiction of the final photo.  This is critical when it comes to the next step and removes the guess work…
Customize your order – in person.
We will get together after the photo shoot and go through the photos you love the most.
Once we have helped you pick your favorites, we will talk through where to best to display your portraits in your home and help you pick the best size and style of wall art for your space.  We understand that purchasing and arranging art isn't something you do everyday and it may even feel a little daunting. The good news is that arranging portraits IS something we do every day and we would love to answer any of your questions and share with you what we've learned over the years. We would also love to show you all of the other various options that enhance your order like albums, books, cards, prints, etc. You will be blown away when you see what we can create together.
Attention to detail.
Now that we have your favorite photos picked out, we'll send your photos back to our Photoshop wizard for retouch to remove any imperfections. So don't worry out about the little things, like the wind in your hair. Our Photoshop wizard has 21 years of experience in retouching portraits and he knows exactly how to remove any nonpermanent imperfections to make your skin look flawless but not plastic. You won't even realize Photoshop has been applied to your skin because you will just looks like your natural, beautiful self.
Professional printing.
Your portraits aren't just any old photos you can get printed anywhere. We send your photos to our lab that specializes in professionally printing portraits. Your products will be archival (meaning they will last forever) and are guaranteed to be individually hand printed and quality checked. Our lab are masters in printing on a variety of materials, which is crucial as you have a variety of print and display options for your portraits.  These prints reflect the beautiful parts of your life and our goal is for you to leave our studio with a high-quality, finished product
Special Delivery!
We will get together to deliver your portraits that will last a lifetime (and then some!) We can have your portraits shipped directly to you if that's the most convenient option or if you don't live in the area. Other options include scheduling a pick up at our studio or we can even come hang your portraits on your walls for you!
We promise that you'll be just as excited about your portraits the day you pick them up as you will be many years later, after countless compliments from your friends and family.
Rest assured, we will back all of your decisions and guarantee that if you decide the style or size is wrong; you can bring your portrait back and we will reprint it to perfectly match your home.  Our ultimate goal is to make sure you are 100% happy with your photos, forever.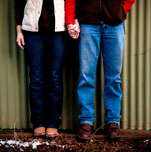 Allison and Matt went above all of our expectations.
I could not have chosen anyone better.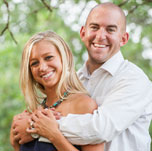 My fiance and I had a blast during our engagement session!
Essential Session
30 min Pre-Planning Meeting
1 Hour Photo Session
1 Location
30 miles of Travel
1 Look/Outfit
1 hour ordering Appt.
Archived at our studio for 3 months
Standard Session
1 Hour Pre-Planning Meeting
2 Hour Photo Session
2 Locations
30 miles of Travel
3 Looks/Outfits
1 hour ordering Appt.
Archived at our studio for 6 months
Ultimate Session
1 hour Pre-Planning Meeting
3 Hour Photo Session
3 Locations
30 miles of Travel
6 Looks/Outfits
1 hour ordering Appt.
Archived at our studio for 12 months