These are images of our recently remodeled studio space. Keep scrolling and reading this post to see more images (of demolition, etc) and read the story to see some awesome before and after comparisons, but pause on these for a moment to check out what our space looks like now! We love spending time here and think you will too. Feel free to visit us and see for yourself!
We have officially been in business in Durango for 5 years, this month (May). It has been an amazing 5 years so far and I am so excited to see what happens in the next 5! We have the most amazing clients and we could not be moving forward without all of you!
About 2 1/2 years in, we decided we needed a larger space and our business had grown enough to require it. We started with about 150 square feet (click first Durango photography studio to see it) and moved across the reception area of the same building to a space of about 250 square feet (click first Durango Photography studio remodel to see it). I can't tell you what a difference that made! Some of you started working with us in that first tiny room and I'm sure you remember what a tight fit it was. Well, another 2 1/2 years later, we need more space again. And this time, we are going big! We are going to be remodeling and moving our space downstairs, still in the same building. And we will have 1600 square feet! I am extremely excited about having a larger studio to shoot in, a sales room, a reception area, a break room, a larger bathroom, an office, etc, etc (not necessarily in that order)! The downstairs of our building was a dentist office for the past 20 years, so we have some major renovation ahead of us. We are going to be knocking down walls, putting in new floors, and refinishing everything. I can't wait to have our grand reopening party to show it all off! In the meantime, we are going to share videos, pictures, and stories as we remodel so you can share the experience with us. In fact, we wouldn't turn down offers to help painting, etc so let us know if you really want to share the experience with us!
The first official demolition day is June 4th, so make sure to check back then to see that!
As a side note, Greg Mann, the dentist who was in the space that we will be remodeling, has built a brand new gorgeous dentist office out in Three Springs (click Durango Family Dentist to see their website). Go check it out because it is amazing! Massage chairs, state the art equipment, gorgeous floors/walls/cabinets/etc – and you don't have to give up the incredible people who really make Dr. Mann the dentist to go too!
6/5/12
Day 1 is officially over and it's now Day 2. There are 6 guys working on demo downstairs, so I'm doing a blog post upstairs. We've gotten so much done already and I am so excited! I've managed to get all the old wallpaper off the walls; the image below is of the adhesive that is practically peeling itself off the walls.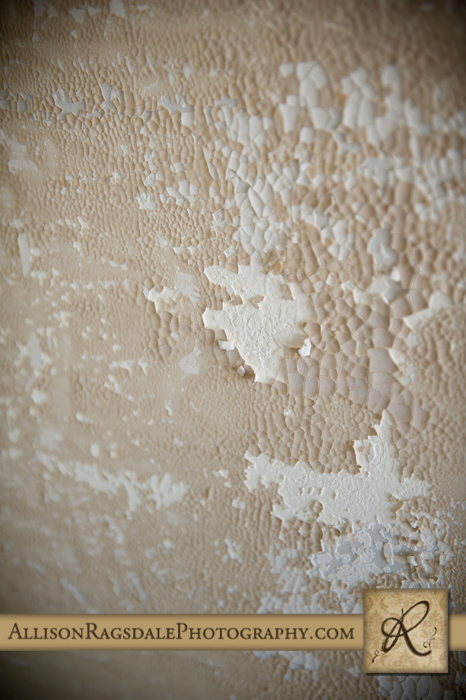 These are a few before and afters of some of the rooms. What you can't see from these angles is all the dental equipment that we are removing – it's crazy!
This room had original wallpaper that I had to remove in 3 layers.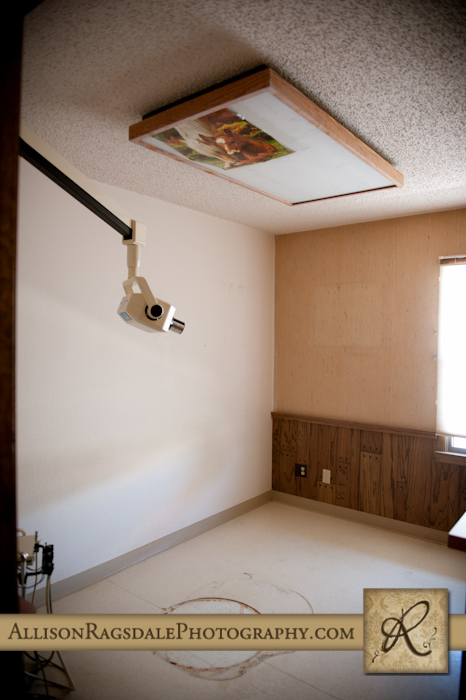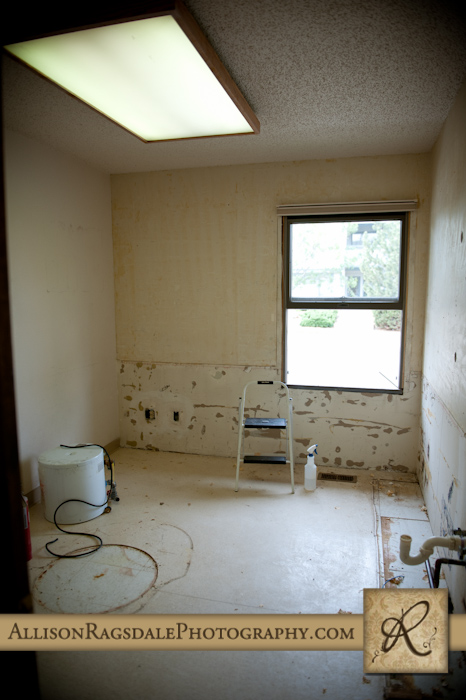 We knocked out one wall yesterday and are attacking the other 3 today.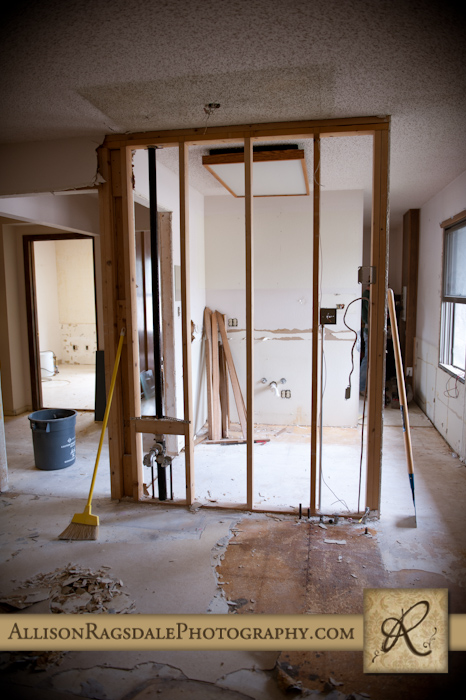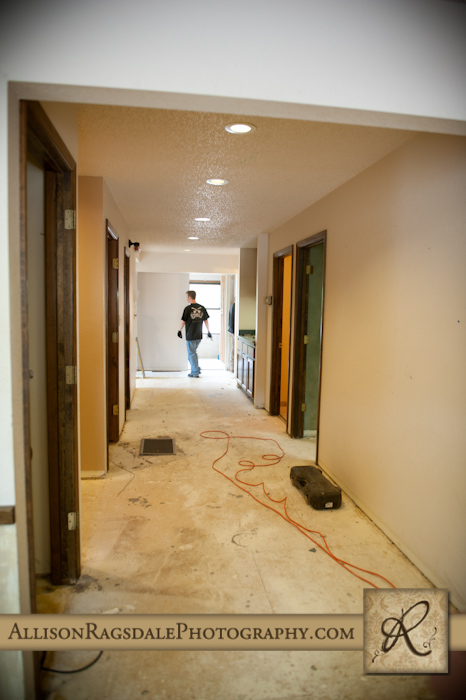 That's Matt there are the end of the hallway – at the end of the first day. Come back to see Day 2!
6/7/12
Today is Day 4 and we have gotten so much done so fast in the past 3 days, that today feels like we're standing still. Jared, Shane, and Andrew have the day off as our demo is pretty much done. Paul is working on the electrical stuff and I'm updating this blog post with more pictures. Matt and the boys made a dump run yesterday and once Matt has a little distance from the experience and he starts to think it's funny, I'll share the story. It's too soon right now 🙂
Here are a few more before and after shots of rooms that took days to dismantle.
And here is where we've removed 3 walls to open up our bigger and better studio. I have so many plans for this space and I can't wait to start putting them all together!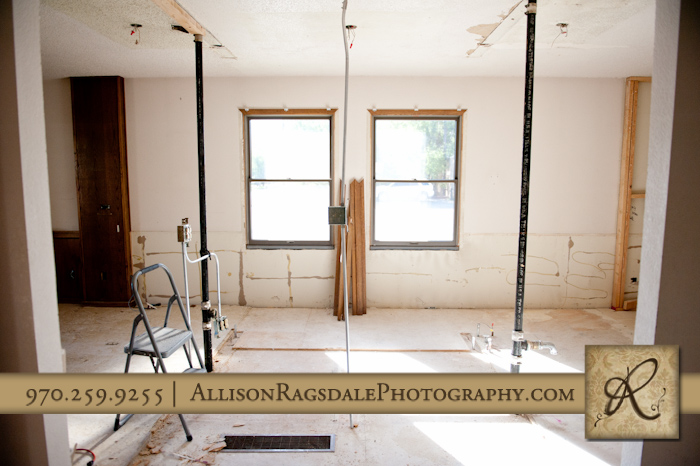 It's almost time for the plumber and drywall guy – I'll keep you posted.
6/26/12
Well, it has been a crazy past couple of weeks, to say the least. The plumber has come and gone and the drywall guys started texturing our walls and ceilings today. The ceilings already look so much better being smooth versus popcorn. I am starting to get really excited. I can finally imagine what the studio will look like. I will post some pictures on Friday, after the texture is finished and before we paint so you can really see all the progress we've made. There was A LOT of patchwork to complete on the walls/ceiling/floors before we could start finishing things, not to mention the electrical, etc. I even got in there and scraped some ceilings (if you saw me around town last week you might have noticed a fine layer of drywall dust in my hair) and smoothed out some walls. We've finally started purchasing new displays for the walls, furniture, lights, flooring, etc. We bought paint today (that purchase actually hurt because it was so much higher than I expected) but I can't wait for our paint party this coming Saturday. Feel free to come by and paint part of a wall/ceiling/door, etc and have some food on us (we'll be grilling). Stay tuned for more pictures after we have the place painted too! Thanks everyone (especially my amazing husband, Matt) for your support and excitement for our current and upcoming adventure(s) – it means so much to me!
7/10/12
We are still painting. I know – I can't believe it either. We did get all the ceiling and walls painted at our paint party, which was amazing and I am so thankful for. I am still painting trim, baseboards, doors, etc. And now we're putting in the floors. They look incredible! I will post pictures of those once we have the baseboard in – which I really, really, really hope will be next week at the latest. We will be out of town this weekend and next, so there are only a couple of days here and there to keep working on the remodel. So, hopefully at the end of July we an actually move all our stuff in and have our grand opening party at the beginning of August! I can't tell you how excited I am! Here are a few pictures of the unpainted texture and a couple of great people helping paint (thank you all again!)! Side note: Rich Bates did our drywall texture, which we LOVE!